The Gift of Life
Writings and Photographs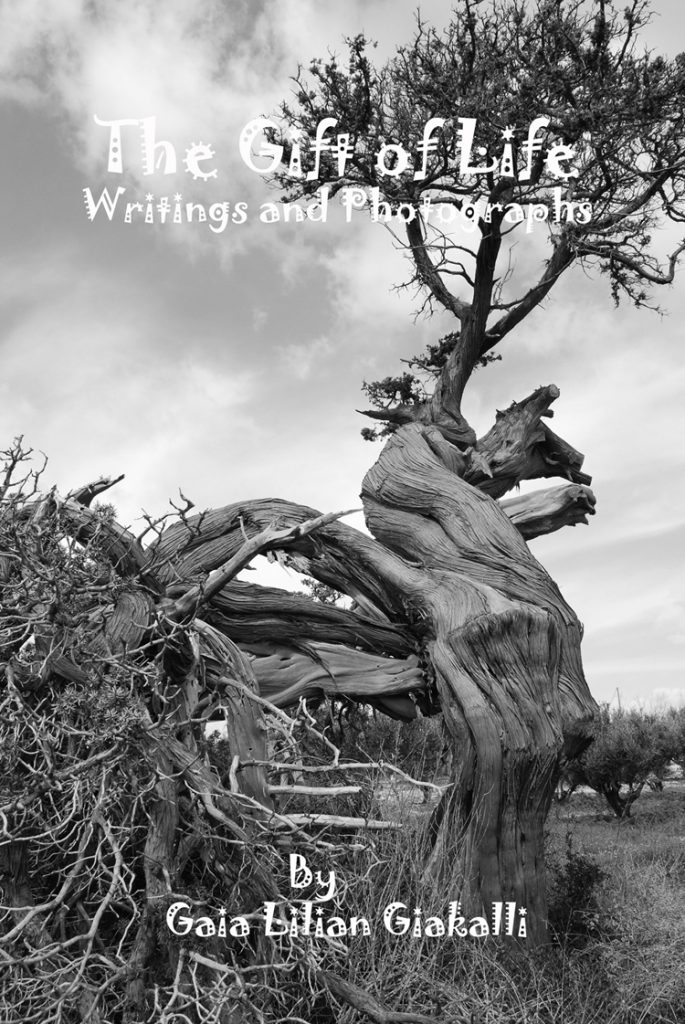 The Gift of Life

The purpose of these writings and photos is to remind us of the beauty that surrounds us, they are simply about life. Our current world seems to be fixated on the negative and has the undertone of fear, which makes us

forget to look at the beauty that life has to offer us. The writings in this book came from pure inspiration; I always had a pen and paper handy to write. No matter where I was I would stop and let the process happen. This is simply my love of life coming forth. I hope these words and images bring you a sense of joy, happiness, and calmness into your life and help us remember that no matter what challenges we are facing in life there is always beauty. We are all learning and the best teachers and guides are we ourselves. We all have something special to share with the world. This is purely my way of expressing myself, just as you are capable to do in any form you wish. Remember we do not have to do grand things to make a difference in this world, simply being happy with our life. Being truly happy is the best gift we can offer the world. Live life with an open heart. I will allow these writings and photos to speak for themselves and bring you to a place of peace.
Table of Contents
Introduction…page 1
Prologue…………………………page 4
River as Life…………………………page 22
The Present……………………….page 24
Blindness…………………………page 26
Playtime…………………………….page 29
What Will be, Will be……………..page 31
Break Free………………………….page 33
Follow Your Dreams……………….page 35
Life's Mirror……………….…….page 39
Open Arms…………………….…page 41
The Mother Light…………………….page 44
Chocolate………………………..page 45
A Piece of Peace…………………….page 49
The New World………………………page 52
Oneness………………………………page 54
Breathe Thy Soul…………………….page 57
Thank You………………………….page 60
Rain………………………………...page 62
Round, Around and Around………..page 65
Τι Ειναι η Ζωη;………………………...page 69
Letting Go of Control………………...page 71
Being In Love………………………....page 75
Ahhhhh………………………………page 79
The Illusion of Fear…………………page 82
Point to the Heart…………………..page 84
Πηγη Φωτος.........................................page 87
Being Spontaneous…………………page 90
The Search For Love…………………page 93
Entering the Ocean…………………...page 94
The Crater of Haleakala………………page 98
A Work of Art……………………….page 100
Freedom of Expression…………….page 103
Fly………………………………….page 106
Student of Fun……………………….page 108
Living as a Child……………………..page 110
Web of Life…………………………..page 111
Η Ζωη σαν Ερωτας..............................page114
Lust………………………………….page 118
World as Energy…………………...page 121
Childhood…………………………...page 125
Life's Little Pleasures………………..page 128
Take Care of Yourself………………..page 131
Birthing……………………………...page 134
Letting go of Thought……………….page 136
The Value of Music…………………..page 140
Upon Making a Decision……………..page 143
Unexpected Difficulties in Life………page 145
Θυμησου…………………………..…page 148
The Art of Travelling………………..page 150
The Sacred Gift of Water…………....page 152
Colors Creations…………………..page 155
Recipe for Happiness…………………page 159
The Trees…………………………....page 161
If you would like to receive a free copy in PDF format simply send an email at:
natureandtreeinus1@gmail.com
with the subject "Gift of Life Book" and you will be emailed the book.
TAKEN BY THE SEA'S BEAUTY
Flip flops
Sandals,
Bare feet,
Sun,
Water,
Sea,
Sunglasses,
Bathing in natures delights,
Unraveling,
Taking off your shoes…
Simply experiencing,
Feeling,
Moving… with the earth's vibration.
Soaking in laughter,
Smiling,
Everyday has something to offer us.
Diving our bare feet deep,
Deep into this zestful sand,
Safe and secure,
As the waves of the water caresses our feet,
Rolling gently inwards and outwards… inwards and outwards imitating our breath.
I close my eyes into the sunlit horizon letting go, 
Breathing  tranquility, calm, relaxation…
I listen to the sound of the whales surfacing in the distance…
I day dream..
Swimming playfully within the swarm of dolphins and whales,
Completely free,
Pure freedom,
No restrictions,
Naked floating in the earth's womb…
My being.. Connected, in the pool of purity.   
Prologue:
Standing On My Own Two Feet
"Suffering is one of life's great teachers."
– Bryant McGill  
I lay here in amazement from last night's discoveries. A part of me I never knew; A surge of a lifelong hidden pain secretly just emerged from the ocean. Moments before, I had begged the universe and angels to please help me and guide me, as I was feeling very sad unaware of what to do. That is when a wave as big as a tsunami hit.
I was eleven; an innocent, smiley, happy child with blonde hair. I remember that day so clearly. I was beaming with happiness. It was the last day of school. I was so proud. Now I was "big." Next year I would be in junior high no longer a youngster in elementary school. Super excitement filled my heart as it was the first day of summer June 21st Three months of fun, laughter, and play were ahead! I couldn't be happier! Life was a fairytale for me.
Like every Friday afternoon, my brother Prometheus and I were waiting for the bus to go to Tang Soo Do School. We waited on a long dirt road that led to an intersection of two other roads. We stood near a donkey and water trough, where farmers brought their animals to drink. As usual, we were dressed in our all white Tang Soo Do outfit. Everything seemed to be going wonderfully, except for the bus being late. As we waited traffic went by. I started getting tired of standing and I asked my brother who was sitting down leaning up against a stop sign if I could sit there. "The bus will be here any moment," he replied. So I just stood there waiting.
  Suddenly everything stopped. I heard a car screech and I thought to myself, "another crazy driver". There was a lot of smoke all around me, and then I could faintly see a red car spinning and coming towards me. Then I must have blanked out because I had no idea what happened to me. When I regained consciousness, my legs hurt tremendously. I found myself lying on the dirt road, several feet from where I was standing originally. My all white-outfit was not white anymore it was covered in dirt. My legs felt weird, different like they were not part of me anymore, disconnected from my body. Almost like they were partially in the ground. The pain was excruciating.
I was very confused and felt much fear. I didn't know if I would live, if I would be crippled, or lose a leg. I felt very weak and tired, I just wanted to sleep and hopefully when I woke up it would have all been a bad dream. Now with both my femur bones broken, my reality switched 180 degrees.
A year of horror began: Being rushed to the hospital, the doctor cruelly yelling at me to stop crying as he violently placed a cast over my legs. Being inserted with a catheter, embarrassed and exposed in a room full of people. Being told I must be rushed to Athens as my case was too serious to stay on the island. Enduring excruciating pain as I was constantly being moved from room to room, bed to bed; I just wanted to sleep. Almost losing my leg as the doctor had placed the cast around my one leg too tight blocking my circulation, I was just an hour away from being amputated. Waking up in shock with these huge alien-looking metal things now extending into my legs. My bum rotten and cut from not being cleaned properly by the nurses after going to the bathroom in the bedpan. Being bedridden unable to walk for seven months, separated from nature which I so dearly love.
 The worst pain? The changing of my bandages twice a day in order to keep the wounds the holes open around the eight metal rods until they healed. Waking up one morning covered in ants feeding on my open leg wounds and unable to jump up and shake them off. Finally given crutches after seven months and realizing I no longer remember how to walk. Having the bars removed by the same alcoholic doctor who almost cost me my leg, gasping for air as he used no anesthetic or pain reliever.
This is just the physical pain, it comes and eventually, it leaves forever. It is healed. What remains, and that which is central to it all is the emotion behind every experience. That day I lost everything in the blink of an eye.
After my request from the Universe for help, I began crying uncontrollably like I never knew was possible. It was like a river rapidly forcefully pushing through. Images of this long past journey flashed through my head. All the memories were accompanied by this deep pain that cannot be described and I was unaware of its existence. It just came out of nowhere and hit me just as if it were that car. Suddenly I received an influx of profound insights, understandings about my life patterns, cycles, and ways of viewing things. It all makes sense now. Such a small event shaped the course of my life. There are many insights that I could share. However, some things I will mention here; while others I will leave out in order not to invade the privacy of the other people involved.

""When you really listen to another person from their point of view, and reflect back to them that understanding, it's like giving them emotional oxygen.""
– Stephen Covey
     I never really believed in romantic relationships. Possible but a rare occurrence I thought. The only person I could truly count on was myself. Pessimistic when it came to marriages & partnerships; thinking: "in the end, it doesn't work out." I blamed this belief on psychological explanations, my relationship with my parents, their failed marriage, a society filled with adultery and divorces. Now I understand where this belief really started.
During my recovery many people around me that I thought loved me, and whom I loved, just disappeared. My friends vanished. My parents were wrapped up in meeting my physical needs, but emotionally absent. I felt truly alone, abandoned, lying there day after day. As a child, I transformed this into a reality where all those that love you and you love too disappear. Relationships you thought you had changed and turned out to be unreal. From then on every time in my life I experienced a difficult or sad moment I felt alone and unloved which would bring to the surface unconsciously those hidden feelings from my accident making me fall even deeper into sorrow. Therefore I concluded that all relationships eventually did not last.
We become so preoccupied with physical and material things that we forget that which is probably the most important. My parents were so involved in giving their support to meet me during my recovery that they forgot the most significant matter of all, something that probably naturally happens in most cases of injuries and disabilities around the world. As we are not experiencing these things ourselves we perceive it through our eyes. It is not easy to juggle the taking care of a person and at the same time knowing what the other is going through. Social support and relationships are key predictors of emotional recovery. Our bonds with family and friends can be deepened or the opposite can occur. Being in a position of lack of emotional support it provided me with an understanding of the value of caring, of love, and expressed feelings. In essence, it taught me about loving, another wonderful gift which I gained from this experience. A shirt, a car, even a home comes and goes can vanish so quickly, but what remains, what is stable and true, is that which cannot be touched, loving and our soul.

"Be patient and tough; someday this pain will be useful to you."
– Ron Pope

Perhaps the greatest present from all this was that it raised my compassion, my empathy, and my understanding so that I can take this experience and in turn use it to help others in my life and profession. I have learned that emotional support is so important and a major key towards real happiness. It has provided me with some essential tools to use as a therapist and support person.
Any event small or big can have a greatly traumatic or vital effect on our lives. The severity does not depend on the size of the event but on the emotional impact it has on that individual, how we experience it. What can be highly traumatic for one can be nothing for another. A mere small act of a mother one day telling her child they are stupid can have a larger or similar result as with someone who was sexually abused or had to deal with the loss of a family member or friend. We cannot judge people's emotions or impose ours based on our own perceptions, values, beliefs, and the way we live our own life. Every person is different so there is a great need to respect the individual needs of all. Placing our own fears, insecurities and in essence our self to the side and focusing purely on assisting the other person. We are all individuals with our own journey and path.
"The power we discover inside ourselves as we survive a life-threatening experience can be utilized equally well outside of crisis, too. I am, in every moment, capable of mustering the strength to survive again—or of tapping that strength in other good, productive, healthy ways."
– Michele Rosenthal, Before the World Intruded
"The most important thing about recovery is to pass the message on."
– Maurice Gibb
"Everything happens for a reason. Nothing happens by chance or by mean of good luck. Illness, injury, love, lost moments of true greatness & sheer stupidity all occur to test the limits of your soul. Without this small test, whatever they may be, life would be like a smoothly paved, straight, flat road to nowhere. It would be safe and comfortable, but dull and utterly pointless."
~Unknown

""I'm glad I lost myself, cuz I'm gonna create a better one now."
– Nouf Alfadl

Before the accident I viewed life as an adventure a place of mystery and excitement, it was a fairytale. After some years had passed I managed to regain this sense, the magic returned perhaps becoming even stronger. This provided an inner strength, a belief in myself, a trust in the world that no matter what happens, we can rise up and endure it all. No matter what comes, I would choose to see the beautiful things, to laugh and take in all the wonderful gifts life has to offer. I was forced to turn within and be my own support system, to believe in myself.
Life comes with its ups and downs. Giving us the tools to learn, expand, grow and truly get in touch with who we are. We can lose our legs, our arms, our voice, our sight but that which cannot be taken from us is our heart and our soul.
"Sometimes a breakdown can be the beginning of a kind of breakthrough, a way of living in advance through a trauma that prepares you for a future of radical transformation."
- Cherri Moraga 
"A traumatic event doesn't doom us to suffer indefinitely. Instead, we can use it as a springboard to unleash our best qualities and lead happier lives."
— Jane McGonigal
     In numerology, I am a five which stands for independence, freedom, adventure, and adaptability. In essence, the ''accident'' was the worst thing that could have happened to me. All these qualities that are central to my existence were taken away. Life was taken from me I no longer had one. I was separated from what I hold the most valuable in my life... Nature.
  The Worst Part
A fairy that no longer had wings,
Imprisoned in the forbidden word
"Indoors"
Separated from her siblings…
The forests…
Sea…
Plants & flowers. Unable to reach them,
A building- not a place for a fairy. She could not roam the forests,
Swim in the ocean, Dance on a mountain.
Her home was unreachable, So close but yet……impossible.
She longed for a window, So she could catch a view of the flowers…
That would give her hope.
But her wings were broken,
Her heart was broken.  
      Yet when you lose everything you eventually come to understand the value and the importance of so much and life.  It's importance,  and how fortunate humans are to have been given the gift of living, breathing, feeling and moving.  That in itself is the greatest gift of all. If I could turn back time and change this event would I? Absolutely not. I am incredibly grateful for this experience and every moment of my life as it has brought me to where I am now and I look forward to all the "good'' and "bad" ahead: the sorrows, joys, traumas, laughs, tears, hugs, disappointments, and love. I await with open arms.
"Hardships often prepare ordinary people for an extraordinary destiny."
– C.S. Lewis